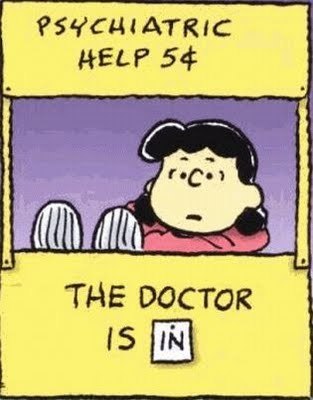 On Friday, I took off work to go see the psychiatrist for my very first medication evaluation.  Sure, I was nervous.  I've never had one done before.  And…well….who else likes to come out and admit to someone that you have thought of ending it and harming yourself?  Certainly, not me.
The session began with a very vague, "tell me your story."  So, I did.  After about half an hour talk, this dude that knew nothing about me started acting like he had it all figured out.  I was steaming mad when I walked out, refusing to ever see him again, and wanting to walk back in and slap him.  Let me explain…..
Here are his diagnoses of me after a half hour interview:  I am apparently obsessive compulsive.  My depression is caused by three things:  my grief, weight, and PMS.  Yes, that is right, you read that right.  He asked me if I was on the pill.  I said no.  He said that maybe I should be.  I wanted to slap him right there.  I GLARED at him and stated, "Excuse me…..everything with my menstrual cycle is just FINE.  I have regular flows, hardly any cramping, and my period comes every month like it should.  I also know I ovulate and am highly fertile.  And…as a woman who has STANDARDS and not the whore that men want/portray her to be, I do NOT go sleeping around with every guy I meet.  There is NO need for me to be on birth control.  And, I also want to get pregnant as soon as I get married, so no thank you for the pill."  I almost wanted to ask him where his gynecologist credential was and that as a man who has never had a period in his life, he has no say on being emotional before you get your period.  HELLLOOOO hormones are getting ready to leave my body and I am about to bleed for 5 straight days.  You would be emotional too!!!! It's normal for women to get emotional during this time.  Needless to say, I was pissed by this point in our conversation.
Also, he told me that I was dependent on my sleeping pills.  WHAT THE HELL?  Excuse my language there.  I explained why my doctor gave me sleeping pills.  He didn't listen.  Instead, he prescribed A SMALLER DOSE OF A WEAKER SLEEPING MEDICATION!  I was so pissed at him!  He didn't hear me out about nightmares and insomnia.  He just didn't care.
In the end, the only thing he changed on my medication was the sleeping meds.  He didn't care that I have meltdowns very frequently.  He blamed that all on PMS.  Needless to say, I will not be going back to him or refilling that sleeping med he prescribed.  I will be going elsewhere.